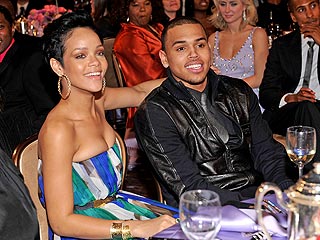 TMZ

.com and People.com are both reporting that

Rihanna

and Chris Brown are indeed back together. A source close to the couple tells PEOPLE "They're together again. They care for each other," says the source. The on-again couple are currently spending time together at one of Sean "

Diddy

" Combs's homes." The source went on to say Chris is sadden by what took place between him and

Rihanna

but he's thrilled to be back with the woman he loves.
Lester Cohen /

WireImage

In case some of you forgot what went down between the couple, here is a picture to refresh your memory. In my opinion, this will not look good in the

public's

eye at all. Not only is it sad that Rhianna decided to take Chris back after he brutally assaulted her; it will make a horrible example for those young girls(some of whom may be fans of her) feels like there is nothing you can do if your partner is abusing you. It also looks like Chris will be a free man. I just cannot see the L.A. County D.A. pressing charges against Chris when the evidence wasn't good enough, and now that they are back together. What if she has to testify against him? Will she lie to protect the "love" of her life? This story is beginning to sound like one of those forbidden love story that you will see on a soap opera. By some miracle, I hope Chris is prosecuted to the fullest extent of the law. Not only that, but I hope(I'm sure you're all with me on this one) that he never, ever dares to assault another person again. Oh and him going to anger management classes, that is pure crap. He's in the public so he will try and do whatever he can to "redeem" himself. Unbelievable! I'm very disappointed by Rhianna's action but since she took him back, I hope she's happy with him. If you're being abuse or you know someone who is, please report it. There is HELP!

What do YOU think about this? Agree of disagree with me? Speak your mind! Do so by leaving a comment or two.